It can be difficult to see the forest for the trees when it comes to defining what it is we in the so-called "tech community" are trying to achieve.
The confusion begins with names: some call it the "startup community," the "tech business community," or #BmoreTech. Whatever. I've been splitting these hairs for several years now, and with the help of many others and after many personal experiences with organizing groups, events, venues, and businesses have developed a simple but powerful vision for the community.
We're all trying to build an ecosystem that looks something like this (click to enlarge):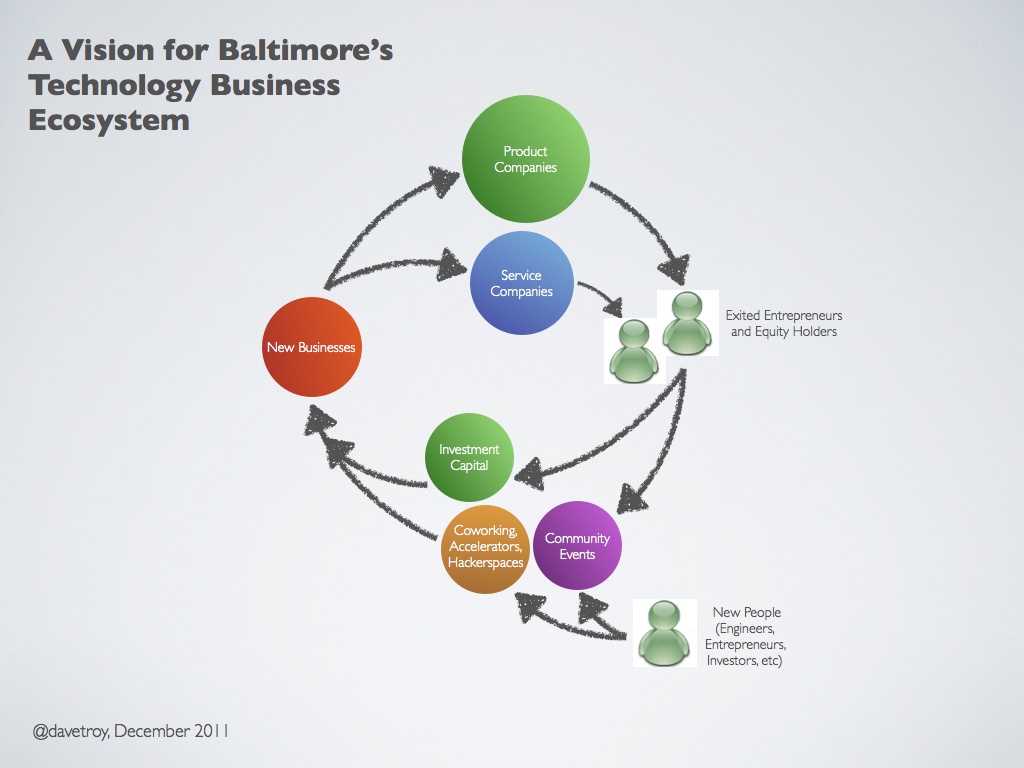 Before we get into the specifics of this vision, here are a few basic values that underly it:
People are the lifeblood of the community. The ecosystem requires educated, creative people. We should strive to enrich and build compelling opportunities for the people in our community.
Businesses generate the wealth that powers our community. Strong businesses make a strong community. We should aim to make our businesses stronger and more valuable.
There is a role for everyone. Diversity of expertise and background is essential to a strong business community. We should aspire to have a healthy mix of product companies, service companies, business service providers, and many types of venues and events for relationship building.
We should celebrate our successes. Celebrating successes, whether they are successful exits or just milestones, is essential to creating a community that values growth, curiosity, and experimentation.
We should connect people together.  Trust and strong relationships are a precursor to new business formation. With strong trust relationships, we'll have more new businesses and they will be more successful.
With this in mind, here's how this model works, step by step. It's a cycle, and for simplicity, we'll start at the bottom.
Getting into the mix. (6 o'clock) New participants, exited entrepreneurs, investors, hackers, new entrepreneurs come together via a mix of venues and events. By "venues" I am talking about spaces that offer opportunities for daily, ongoing interaction between individuals. They're "high touch" while being "low risk." Think coworking, hackerspaces, regular café coworking, incubators and accelerators, and educational institutions. By "events" I'm talking about one-off or periodic events that afford people an opportunity to get together, get to know one another, and try new things. (Think Bmore On Rails, Startup Weekend, EduHackDay, CreateBaltimore, etc.) New investors can participate in angel groups and pitch events.
New business formation, access to capital. (9 o'clock) With trust, exposure, and experience, new businesses can form. With the prolonged exposure made possible by the "mix" phase, entrepreneurs can make more informed decisions about who to go into business with and have likely had more time to refine their ideas before ever beginning. This means a lower failure rate for new startups than in a less-developed ecosystem. As for investment capital, some will come from exited entrepreneurs, some from venture capitalists, seed funds, and governmental initiatives like TEDCO and InvestMaryland. We should aim to connect investors with nascent businesses. This will happen naturally to some extent in the "mix" phase, but we should consciously encourage it; bootstrapping should also be an option.
Business growth. (12 o'clock) Some companies will grow to become strong product companies, others will become service companies. Some people want to grow their businesses to sell them, while others just want to build and run a great business. These approaches are all valid. We should celebrate the formation and growth of all of the companies in our ecosystem.
Entrepreneur exits. (3 o'clock) Some entrepreneurs will seek the opportunity to exit their businesses and capitalize on their growth. This is most lucrative with product companies. When these exits occur, we should celebrate them as successes of the community as a whole.
Entrepreneur returns to the mix. (6 o'clock) Exited entrepreneurs should be encouraged to re-engage with the community, either as investors or as active entrepreneurs to form new relationships and new businesses. The cycle starts anew.
That's really it. If we can make this cycle work, we'll have a thriving entrepreneurial ecosystem in Baltimore. (This is the exact same cycle that made Silicon Valley great, and is now working in places like Boston, Austin, and New York.)
That's Great, But Where Do We Stand Now?
We have much of what we need in place: venues, events, investors, and businesses. But the two things we have most lacked are a cohesive vision for how this cycle is supposed to work, and also the last link in the cycle – systematically re-engaging entrepreneurs into the ecosystem.
However, just today came the news that Greg Cangialosi and Sean Lane are forming a startup accelerator in Federal Hill. That's an example of two successful entrepreneurs getting back into the mix and re-engaging. We need more of that. But we need to make it easier and more attractive for entrepreneurs – there need to be obvious on-ramps and channels. We're starting to get that in place.
My hope is that this vision, which I have shared in one-on-one conversations with many friends and leaders to much enthusiastic agreement, can now take root as the underlying force that animates our community.
Role of the Greater Baltimore Technology Council
There's been much discussion about what the role of the Greater Baltimore Technology Council should be, and I submit that this vision, as I've articulated it here, is what the group has been moving toward for the last three years – and with Jason Hardebeck (who is himself an exited entrepreneur) at the helm, I believe we can move towards it more quickly now.
The GBTC's job is to:
Help build and protect the ecosystem. GBTC should be a watchdog that ensures the ecosystem has the right pieces in place and that they have what they need to function properly. This means working with government, educational institutions, and others to ensure that the conditions required for the ecosystem to thrive are present.
Accelerate the cycle. The faster this ecosystem operates, the more successful we will be. Specifically, GBTC should connect people together, and celebrate our collective achievements, and help pull our educational institutions into the ecosystem. Ultimately this will pull in more smart, creative people, accelerating the cycle further.
Make our businesses stronger. By connecting our community together better and providing venues, events, connections, and celebrating our success stories, GBTC can help to make each of our businesses stronger and more robust. This also means connecting businesses to service providers (HR, insurance, accounting, legal) and mentors who can provide value.
For all the drama and hand-wringing, it really is this simple!
Some have wondered whether they "belong" in the GBTC. That's something every person and entrepreneur has to decide for themselves; there are obviously many valid and valuable ways to participate in this overall vision that are outside of the scope of the GBTC. However, if you care about growing and protecting this ecosystem, and if the group can help your business grow and succeed, I'd encourage you to lend GBTC your support; it just makes good business sense, as GBTC is the only group that has been tasked with this important work.
I know that others in positions of leadership in Baltimore's tech business community (and at GBTC) share this vision. I encourage your comments and feedback, but before reacting, you might take some time to really think this over. This is something I've been looking at for several years, and based on everything I know, this is the right way forward.
The Rest of the Story
Oh, and there's one more thing.
We all want to prime this pump and get this vision more fully underway, but I also think it's reasonable to ask how Baltimore's tech ecosystem fits into the bigger scheme of things. What relationship should we have with other ecosystems, in our region and around the world? Is the point to win or are we trying to thrive? I'll be touching on this topic in an upcoming post, and it should help to clarify how this vision makes even more sense for Baltimore.